Some Amenities & Facilities We Offer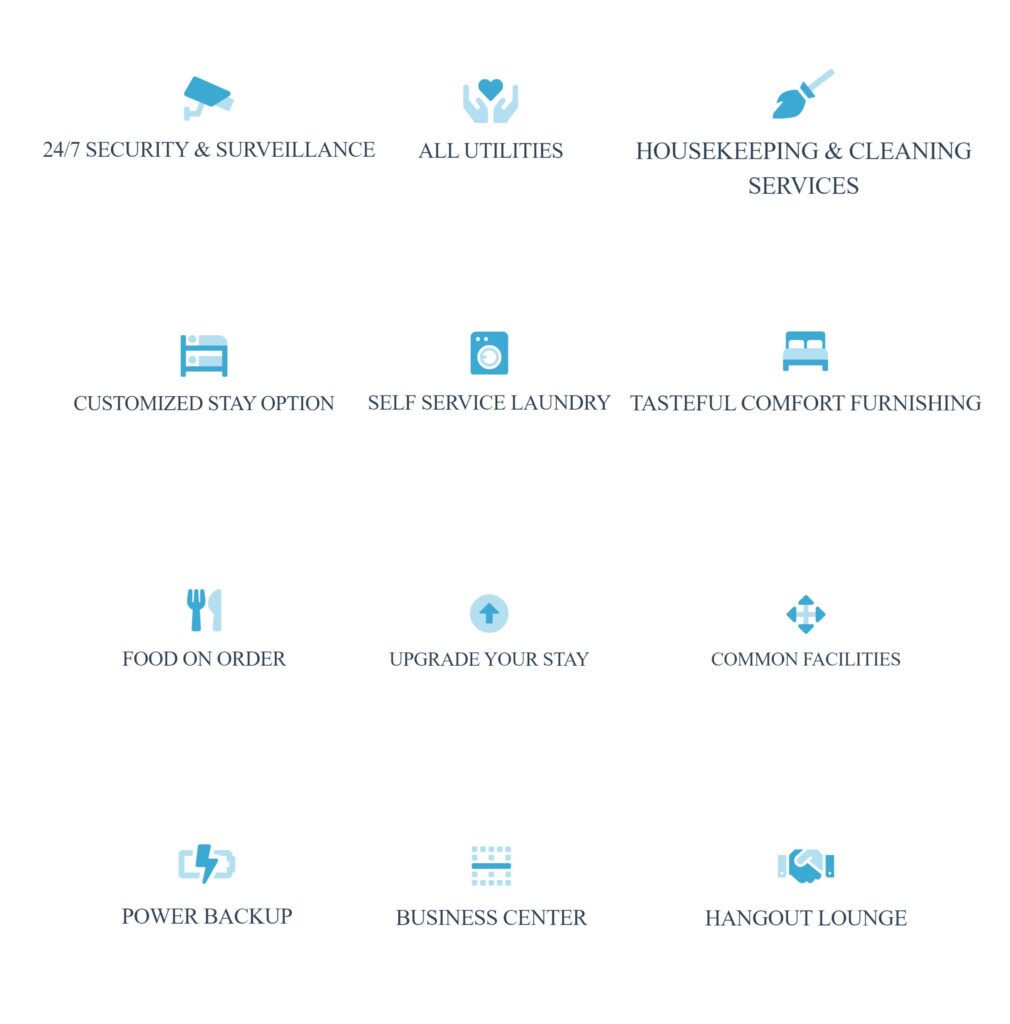 Best Service Apartments in Bangalore
Myhomestay provides fully furnished service apartments in Bangalore. These apartments are near to all the IT hubs and major restaurants. Myhomestay offers a share stay, studio stay and 1 BHK service apartments in Bangalore.
We have a variety of service apartments to suit the needs of everyone, from a single person to a family of four. All the apartments have been designed with modern amenities and offer complete privacy, safety and convenience.
Myhomstay provides a platform that is different from the usual hotel stay and gives you the opportunity to experience the local culture while on vacation.
Why Service Apartments are Best
Service apartments are an excellent option for people who want to stay in the city and don't want to worry about housekeeping or cooking.
Service apartments offer a monthly rent that is affordable and also provides you with all the benefits of living in an apartment.
It is perfect for people who are looking for long-term accommodation in Bangalore. they offer the same level of amenities as any other apartment would, but at a fraction of the cost.
The best thing about service apartments is that they are designed to suit different budgets and requirements. We offer monthly rent options, which means that you don't have to pay an entire year's worth of rent up front.
Service apartments also make it easier for people who want to work in Bangalore, but don't want to commute too far every day
Our service apartments consist of Shared Stay, Studio Stay, 1 BHK Flat, 2 BHK Flat
Shared Stay Service Apartments Bangalore
When it comes to choosing the best stay in Bangalore, you can't go wrong with the shared stay. It is located in the heart of the city, close to all major attractions and has a range of luxurious amenities.
We recommend MyHomStay for those looking for a peaceful and luxurious stay in Bangalore.
Trend in Shared Stay
The shared stay is a new trend in the hospitality industry. It provides travelers with a more affordable, authentic and adventurous experience. This type of accommodation offers an opportunity to meet people from all over the world, learn about different cultures and try different cuisines.
Studio Stay Apartment Rental Bangalore
Studio Stay in Bangalore ,India is a new hotel concept,. MyhomeStay Best hotel in Banglaore offers both the comforts of home and the luxury of a hotel.
It's designed to provide an experience that will make you feel like you are at home. The rooms are designed to be like your own personal apartment with all the amenities of home. You can also enjoy your meals in your room as they offer free room service for breakfast and dinner.
This is an example of how hotels are trying to stay relevant by offering their customers more than just a place to sleep for the night.
Studio stay is one example of how hotels are trying to stay relevant by offering their customers more than just a place to sleep for the night.
With Studio Stay, you can have access to all amenities and facilities like Wi-Fi, desk space, meeting rooms, restaurant and café. But what makes Studio Stay so special is their concept of a "working holiday" where you can work and stay at the same time – making it possible to live your dream lifestyle.
BHK Stay Types
1 BHK Service Apartments In Bangalore
BHK Stay is a one-bedroom apartment in Bangalore, India. It offers guests an affordable and comfortable stay.
BHK Stay is a one-bedroom apartment in Bangalore, India. It offers guests an affordable and comfortable stay. The apartment has all the basic amenities required for a comfortable stay like a kitchen with cooking utilities, high-speed Wi-Fi, laundry services, and free parking space. Guests can enjoy the comforts of home while staying here as it also has all the modern amenities that one needs to live comfortably like LED TV with cable connection, washing machine, refrigerator etc.
The apartment is located in close proximity to major landmarks such Market Square which is 3 KM distance, Forum Mall which is 2.5 KM distance. Many tourist places like Begur Fort 7 KM from Apartment, Singasandra Lake 9 KM from Apartments, ISKCON Temple 16 KM from Service Apartment, Kempegowda International Airport Bengaluru is 43 KM in distance
2 BHK Luxury Service Apartments in Bangalore
MyHomeStay offers 2 BHK apartments to stay in. The company offers one of the best accommodation options for people who are looking for a place to stay in Bangalore.
BHK stands for Bedroom, Hallway and Kitchen. The apartment has two bedrooms with attached bathrooms, a hallway and a kitchen.
The two bedrooms are spacious enough to accommodate three people each and the living room is large enough to fit four people comfortably.
The amenities include from WIFI, S to all basic things.
This property is suitable for families or small groups of friends who want to explore the city together or couples who want some privacy while they are in town.
Our Luxurious BHK Flat Types
Number speaks for itself!